Busking on the Streets of Birmingham
You may have recently seen on YouTube a video of a busking policeman belting out the Oasis anthem "Wonderwall" on a borrowed guitar on the streets of Birmingham city centre.
Well the man behind the uniform is PC Ian Northcott, a member of the the West Midlands Police Retail Crime Team and also the man behind the 'Socks and Chocs for the Homeless' initiative…
…and this is not a one-off performance! Ian was recently featured in this short documentary about busking in Birmingham, which also featured fellow "Hand in Glove" contributor and musician Gary O'Dea.
Media Interest
Ian's 'Wonderwall' performance has since gone viral, leading to media interest world wide, with reports in national and international papers, radio interviews and television appearances including this appearance on Central TV, the Midlands regional news TV programme…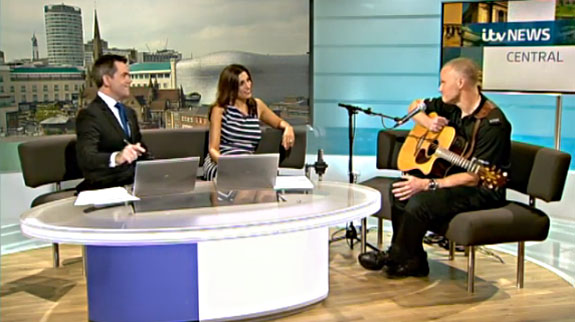 …and this interview on Radio WM (for non-brummies, a translator may be required!!!) …
The Busking Bobby and Socks and Chocs for the Homeless
Ian has seized on his new found fame to promote his 'Socks and Chocs for the Homeless' initiative, an initiative supported by his work colleagues, to provide homeless people in Birmingham, Coventry and Wolverhampton with a few basic home comforts at Christmas.
The total donations made to the homeless last Christmas were:
1488 pairs of socks, 886 boxes of Chocs, 270 hats/gloves and 60 sleeping bags
This year the aim is to collect and distribute 16,000 pairs of socks!!!!
How Can I Help?
If you feel like donating a pair of socks to our cause, Coventry Cyrenians can take delivery direct to their HQ.
Please make sure you write Socks and Chocs 2013 clearly on the package.
Coventry Cyrenians (Socks & Chocs)
Oakwood House
Cheylesmore
Coventry
CV1 2HL
Or if you are Wolverhampton based
Good Shepherd Soup Kitchen
Darlington Street
Wolverhampton
Anything Else?
Ian would like musicians to cover his song 'Pleasure' to help promote his 'Socks and Chocs for the Homeless' initiative. In Ian's own words…
"I would like for musicians to cover my song 'Pleasure' to hopefully help promote my Socks and Chocs event which myself and my colleagues do each Christmas Day.
I really want musicians to cover the song in as many different styles as you can. Forward it to your friends so they can cover it and let's see if we can get it the most covered song on You Tube.I know most of you can do a better job than I can so go for it and put me to shame. Play it in any key just keep the lyrics intact and place the same chord numberings in any key. Please call it 'Pleasure' and refer to 'Socks and Chocs For The Homeless'."
'Pleasure' by Ian Northcott
Find Out More…
Read previous articles here:
Socks and Chocs for the Homeless 2012
Socks and Chocs for the Homeless 2012 – Update 1

Find out more about Socks and Chocs:
Socks and Chocs Facebook page
Socks and Chocs iPhone app
Follow Brums Busking Bobby on Twitter

Listen to 'Pleasure':
Ian Northcott – Original Version
Ian Northcott – Studio Version with Gary O'Dea
Ben Stancombe's Version
James Woodward's Version
Rosie's Version
Noah Smith's Version
Tony Scott's Version
Pete Smith & Vanessa Wheeler's Version
Ian Northcott – New Version
Find out more about Gary O'Dea:
GoJo Music – Black Boy Rhythms…White Boy Beat