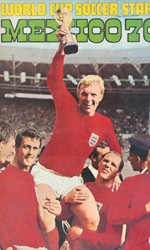 World Cup Soccer Stars Mexico 70
Welcome to the World Cup Soccer Stars Mexico 70 Picture Stamp Album.
The 1970 FIFA World Cup, the ninth staging of the World Cup, was held in Mexico, from 31 May to 21 June.
A total of 75 teams entered the qualifying tournament. Those who failed to qualify included France, Portugal, Hungary, Argentina and Spain.
The intense heat and high altitude provided difficult conditions to play under which were further exacerbated by the decision to stage matches at midday to suit European television schedules.
For the first time substitutions were allowed in the World Cup with two substitutes allowed per team. Red and yellow cards were also first used by the referees.
This was also the first time the FIFA World Cup™ had been broadcast in colour around the world.
Brazil deservedly won the world cup with a glorious exhibition of attacking football beating Italy 4-1 in the final. This gave them the right to keep the Jules Rimet Cup and provided the perfect farewell for Pele on his final appearance on the world stage.