In the beginning… Cock Sparrer
Around 1974 Gary Lammin was asked (or did he just turn up) to join his cousin Steve Burgess in a band known as Janus. Within a few months of Lammin joining they'd become Cocksparrer.
They were a young East End of London band, musically influenced by a mix of the Small Faces, The Stones, New York Dolls and Slade…oh and an additional dollop of football/terrace young British working class culture and social values of the time…oh and they were being courted by an arty London dandy known as Malcolm McLaren who had this idea for giving the music industry the biggest kick up the back side it had received since the Beatles and The Stones.
The band were more interested in gaining a few beers off him and didn't really take him serious…they parted ways…he of course put his idea together with the Sex Pistols…Cocksparrer stayed true to their roots, and became a kind of East End street/punk/boot boy version of Slade.
They developed a loyal hard core following in London and released a few (minor at the time) singles on Decca Records…these early stage favourites became Cocksparrer anthems and Lammin co-writes many of the best of them with his cousin Steve Burgess, these include Running Riot, Chip On My Shoulder, Sister Suzie, Sunday Stripper, Platinum Blonde and Again and Again.
They also do a cover of The Rolling Stones 'We Love You' in an exaggerated cockney vocal delivery, and a kind of trashy New York Dolls style guitar sound meets a Slade boot boy stomping rhythm.
They toured with a re-formed Small Faces…they become a massive influence later on to the development of the Oi bands scene…but Lammin left…he'd had enough of the baggage of crowd violence that had crept into the bands gigs and the band split. Lammin however had other ideas…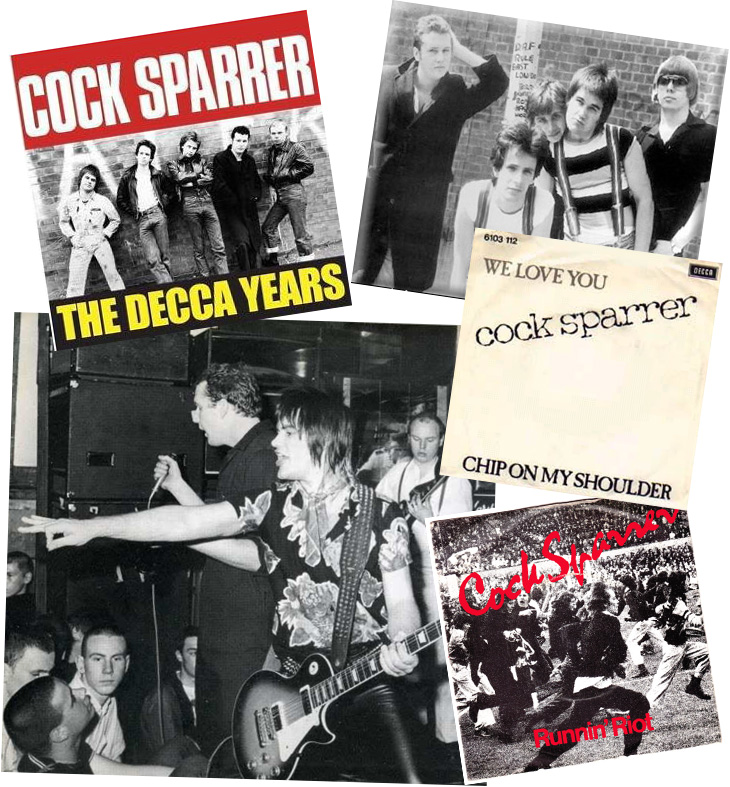 The Little Roosters
Originally formed by Lammin late 1978 and helping to pioneer the mix of Maximum R&B grooves with the energy of Punk Rock. This opened the way for a revival of interest in 60's style garage/guitar based R&B that led to a MOD revival. Early devotees on the original MOD 79 scene championed this band.
Gary's cheeky cockney charm very reminiscent of the Small Faces Steve Marriott (a band that very much influenced the Roosters music style). Also disciples of early gutsy Rolling Stones / Yardbirds / Pretty Things etc, flocked to see the Roosters as they ploughed their way around the London club scene and later all over the British Isles and into Europe.
The bands first single 'She Cat Sister Floozie' was made record of the week by Radio1's Mike Read and was reviewed by Tom Robinson in the New Musical Express. They also featured heavily on the John Peel show at that time.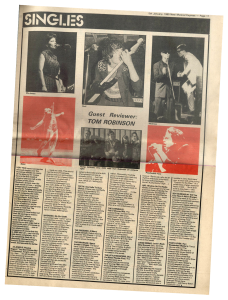 Their second single a cover of the Otis Redding classic 'That's How Strong My Love Is' was again made record of the week by Mike Read, but also by this time, the band were being championed in lots of the weekly music press such as the NME, Sounds and Melody Maker.
The NME's Charles Shaar Murray (now a noted writer on Blues/R&B music) also made this song the NME's record of the week when it was released.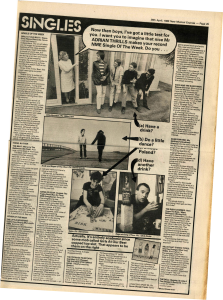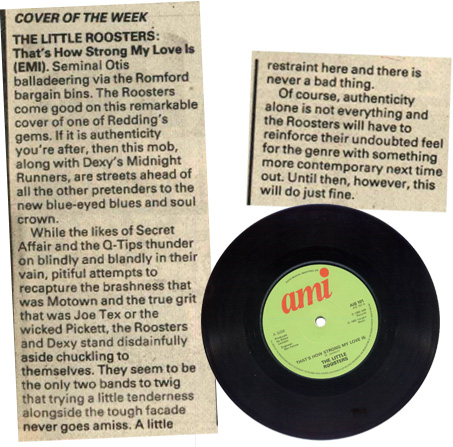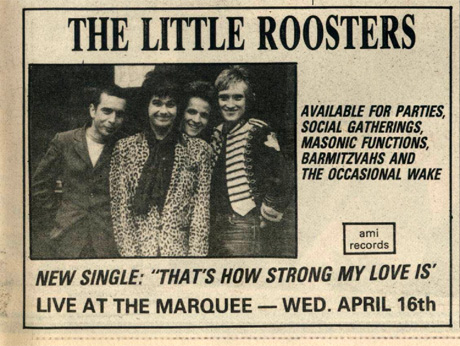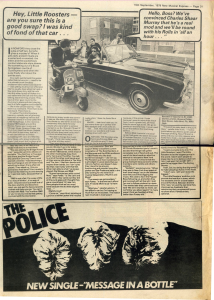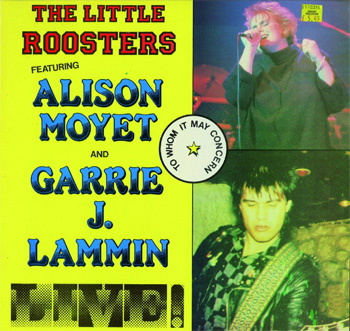 Alison Moyet
Just after the release of this single the band were joined by an unknown female singer that Gary had unearthed, she was non-other than the incredible Alison Moyet. Alison toured all over Britain and Europe with the Roosters.
It was actually while she was with the Roosters that Vince Clarke saw her and approached her to join a project he was putting together called Yazoo – the rest as they say is history.
A live album was released to commemorate Alison's time as a Little Rooster and was a limited edition that quickly sold out.
The Roosters official debut album was recorded by non other than the late great Clash front man Joe Strummer – he also played piano for the sessions and a single was released – the classic 'I Need A Witness.' This saw them get a TV appearance on 'Get It Together' an early evening pop show at the time.
The single and album also had great success in Europe for the band.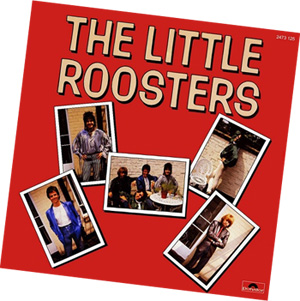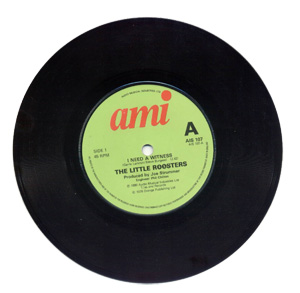 After this there came a slight transformation and an additional guitarist called Micky Owen from Bristol joined with his Ronnie Wood style guitar licks. This allowed Gary to bring to the fore his appreciation and understanding of crafting a set of songs in the mould of The Faces mix of acoustic / bluesy / soulful / folky rock / pop. Here's some great promo footage of the band performing the stage favourite 'People Breakdown'.
D'rango Slang
After this Gary formed a brief new line up called D'rango Slang which included Micky Owen. He released in 1985 via the French label 'Surfinbird Records' a wonderful album under the title Garrie and The Roosters called 'Shake It Down'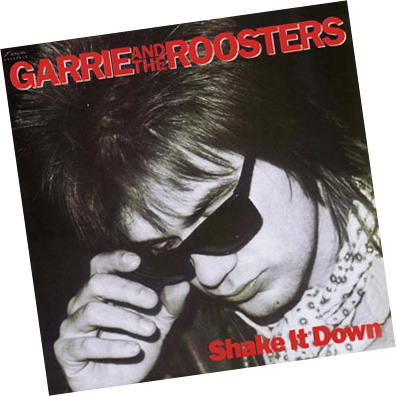 Garrie And The Roosters
It was and is a wonderful collection of songs with Gary's song writing craft flourishing. Stand out songs for me being 'Justice' / 'Shake It Down' / 'Downtown Tram' (not the Rod Stewart song either) / 'You Never Told Me Why' and 'Locomotive Heart'.
The album included performances from such notables as The Inmates (Bill Hurley, Peter Gunn and Ben Donnelly) and from Big Heat (Seamus Beaghen and Drew Barfield).
Sadly the album was like a fish out of water with the musical times…and Gary had done a wonderful job of landing a rare fish. Gary was all over with music after this for quite a while…his creative flair had found another outlet…and a more rewarding one for a while…acting.
Acting
Gary applied his considerable talents to his new found trade and built up an impressive portfolio of work across Theatre, TV and Film over the years.
Film credits include The Informant with Timothy Dalton, The Calcium Kid with Orlando Bloom and The Ice House with Daniel Craig and Frances Barber. TV includes various appearances over the years in popular favourites such as Eastenders, The Bill, Doctors, Auf Wiedersen Pet and many many more.
See https://www.imdb.com/name/nm0483595/
The Zen Buddah' Boot Boys
But try as he might…he couldn't ignore the musical itch in him…he stated to scratch it again around 2000 whilst carrying on with acting commitments for a number of years.
He had an idea…he had a little concept…he called it The Zen Buddah' Boot Boys (great name)…he recorded some songs with legendary Sex Pistols producer Dave Goodman…the sessions went well, some gigs came along that went well and a collection of songs was put together on a CD release called Icons…but Lammin shelved it.
He started to work with musicians across the board and started to journey on a musical path that included working solo and putting short lived line ups together while he honed his craft again.
He was forging (not forcing) together a powerful fusion of slide punk / blues…giving short shrift to those that didn't 'get it'…the journey took him around the British Isles — playing clubs, pubs, festivals (including Glastonbury) etc, he travelled to Europe and over to the States…all self financed… the journeys at times testing his resolve to the limit.
He met people that added to the texture of his journey, he drew positives from it and screwed the negatives up and threw them in the bin. He featured on cable TV music shows in the US such as Sonic Lobotomy.
The YouTube ID of Wt57chNU8Cw is invalid.
The Bermondsey Joyriders
He also recorded out there and through shear hard work, bloody mindedness and a cockney barrow boys wheelbarrow full of bottle…he made it work for him. He returned to London and teamed up with an old schoolmate…and ex member of 77 punk band Chelsea — Martin Stacy on bass guitar.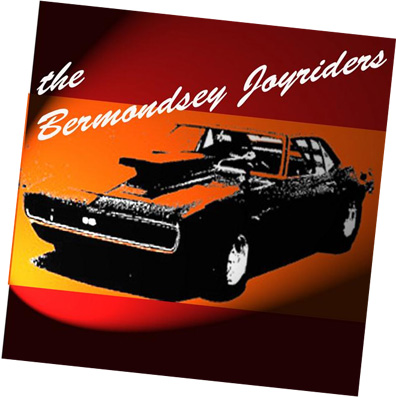 The journey now had a vehicle…The Bermondsey Joyriders…they revved up the engine and roared off. They rolled their sleeves up and applied the working class principles of hard work and graft to firmly earn the title of the hardest working band around.
They went back to the US…Gary wanted to deliver to the States a real 'no nonsense' bit of Brit grit rock n' roll, Martin was well on-board and they rocked their way around the States…they toured 4 times and clocked up 12,500 road miles!
They teamed up with American session drummers Steve Godoy and 'New Jersey' Evan for the tours across the whole of the states…coast to coast…one of the tours being undertaken with Lammin having a leg in plaster owing to breaking his foot prior to the tour…imagine Long John Silver playing guitar and you'll get the vibe…they also made a return to TV on Sonic Lobotomy…and their first album was released.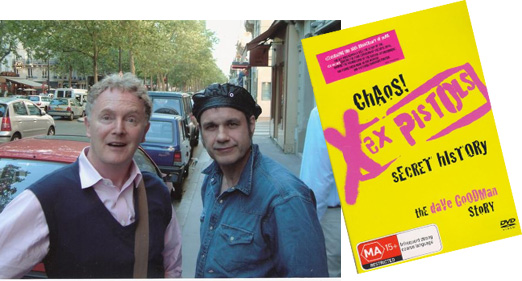 Gary also featured in a documentary film / dvd about the legendary punk rock producer (Sex Pistols etc) Dave Goodman — Dave sadly died suddenly in 2005. Some of the filming took place in Paris and this saw Gary re-united with Malcolm McLaren who reminisced with Gary about their original meet up during his Cocksparrer days.
For me there's a strange kind of twisted déjà vu / Zen / Cosmic kudos that starts to happen after this meet up, because Gary really starts to up the ante with the Bermondsey Joyriders.
That old street bootboy / punk / rock n' roll fusion…originally let loose in his Cocksparrer days around 1976, and already evident in the launch of The Bermondsey Joyriders was now gonna' get wrapped up in style and image…and oh what a cool, warped, bricolaged imagery of subcultural British iconic rock n roll it was…oh…and all with a healthy pinch of tongue in cheek humour…Oh and add collaborating live with ex MC5 manager / and counter culture poet John Sinclair and there's no way these 'Joyriders' were gonna' be held in check by any speed limits.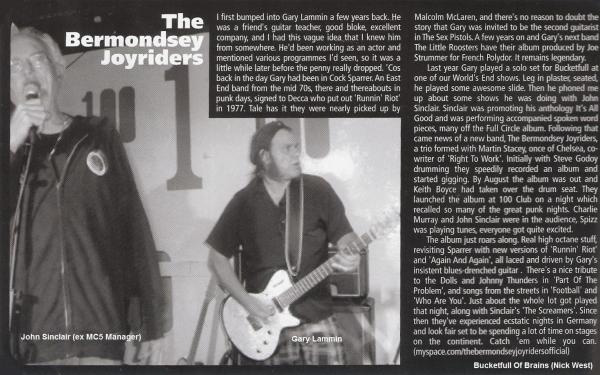 Ladies and Gentlemen please welcome to the world stage…
The Bermondsey Joyriders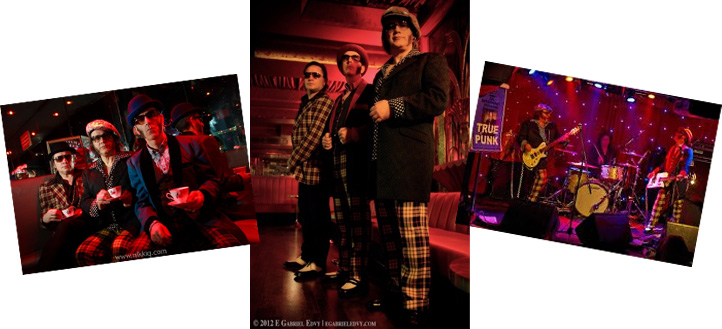 I'll try to explain…imagine a scientist in human biology with a love for 70s trashy rock n' roll bands, pop culture and sub culture becomes totally bored with the musical pap and outpourings of media controlled 'chepooka' he is surrounded by today.
Imagine after hours in his lab that he starts experimenting with creating some kind of biological representation of all he loved as a teenager…just for his own enjoyment you understand, something he keeps under lock and key and behind closed curtains…something he keeps in 3 separate test tubes — that once he is alone he can mix the elements together to entertain him for a short while and then he puts them back under lock and key… until one day he decides to release them.
Imagine a mutant mixture of musical substance drawn from the likes of Slade and The New York Dolls, the tartan trousers, mutton chop side burns and roaring voice of Noddy Holder, fuel injected with Droog like swagger and a rhythm and power that kicks you in the 'yarbles'…this my droogies is 'Noise and Revolution' and that is also the name of the brand new CD/album from The Bermondsey Joyriders.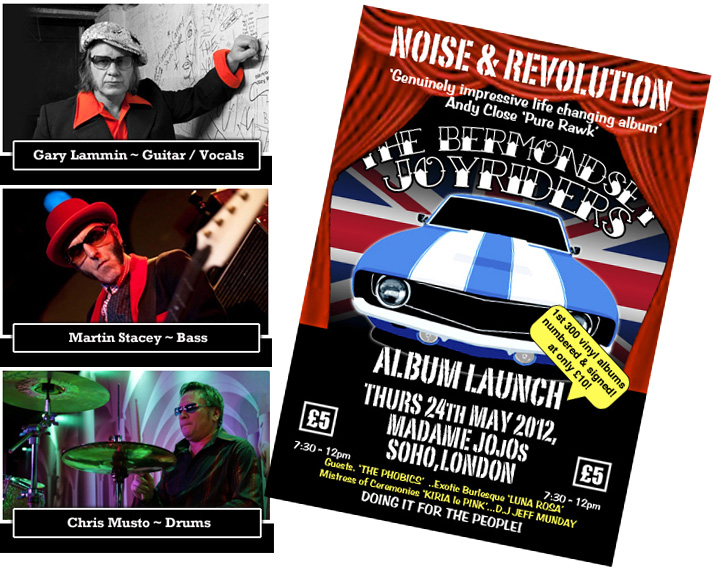 The drum stool has been a bit of a hot seat to fill for this demanding band…ex Heavy Metal Kid – Keith Boyce took a turn for a while…Rat Scabies as well and Gary's old mate Eddie from the Vibrators has also assisted when required …but they now have ex Johnny Thunders and Joe Strummer drummer Chris Musto firmly seated in the engine compartment.
The album was successfully launched in London May 2012 in a mix of twisted burlesque meets a mutant lounge act at Madame JoJos a Soho night club and has gained excellent reviews.
https://www.thebermondseyjoyriders.co.uk/
Also check this great video out for the song 'Society' it's a right 'dobby gromky creech' from the 'gruppa' on the riots last year and far more relevant than any 'gazetta' reports.
So what now me dear 'chellovecks and devotchkas'…well me thinks you should get some 'deng' together and order your copy and 'Cum On Feel The…Noise and Revolution'…oh and don't forget to look out for them Joyriding in a town near you soon.
Gary Lammin me old Cocksparrer, long may you Rooster With Intent and enjoy your Joyride…you've earned it son.
Gary O'Dea