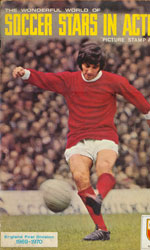 Soccer Stars in Action 1969/1970
Welcome to the Soccer Stars in Action1969/1970 Picture Stamp Album.
The 1969/1970 football season was won by Everton with 66 points from 42 games with Leeds United taking the runners up spot. Sunderland and Sheffield Wednesday were both relegated. These were the days when teams got 2 points for a win and only 2 teams were relegated.
During the 1969/1970 football season:
The Woodstock Festival is held in upstate New York
The first-ever episode of 'Scooby-Doo, Where Are You'! is broadcast on CBS
The Beatles release their Abbey Road album
Monty Python's Flying Circus first airs on BBC One
Soccer great Pelé scores his 1,000th goal
Black Sabbath's debut album, Black Sabbath released
The iconic live album The Who: Live at Leeds is recorded
"All Kinds of Everything", sung by Dana wins the Eurovision Song Contest 1970 for Ireland.
Apollo 13 is launched toward the Moon
In Washington, D.C., 100,000 people demonstrate against the Vietnam War
Born this season: Edward Norton, Nate Dogg, Jack Black, Shane Warne, Catherine Zeta-Jones, Gwen Stefani, Polly Jean Harvey, Jay-Z, Richard Hammond, Glenn McGrath, Simon Pegg, Rachel Weisz, Mariah Carey, Andre Agassi, Uma Thurman, Ronald and Frank de Boer
The Picture Stamp Album