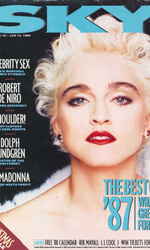 80s Pop Culture Magazines… and More…
Again searching through the trivia of a previous existence, I stumbled across several 'lifestyle' Magazines from the early 80's up to the present day.
This collection is a cornucopia of the music, fashion, sport and life styles of the times.
Before the internet, before multi-channel TV, before digital audio streaming, it was difficult to get any information, or trivia, on these areas of interest. These were the lexicons, the bibles, the encyclopedias of youth culture and style. Some of it still makes enjoyable reading, some of it cringe-worthy.
Most of these magazines are either first issues, end of year reviews or anniversary editions. What I didn't realise at the time is that the second issues garner the filthy lucre as they are usually much rarer than first editions.
80's Pop Culture Magazines… and More…