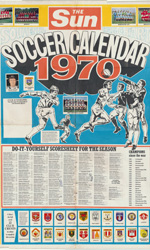 The Sun Souvenir Wall Chart Soccer Calendar 1970
Back in the early seventies, there seemed to be a bizarre unspoken media conspiracy to change the name of 'football' to the perceived sexier name of 'soccer'. One of the main protagonists of this scheme was the Sun newspaper, who also jumped on the bandwagon for the new passion for collecting football stickers.
The Sun produced a metre long wall chart which sold for a shilling (5p) in these pre-decimal times, the stickers were procured by swapping tokens printed in the newspaper.
One thing I liked about this wall chart was the provision to paste the stickers for your club in the centre of the chart, therefore elevating them to elitist status. One thing that was not so clever, was the space in the centre of the chart to collect your teams autographs, which was not really practical due to the sprawling nature of the media.
My wall chart shows quite extensive damage mainly due to being folded into a rectangle, as opposed to being rolled up and deposited in a cardboard tube… what do you know as a young school kid?
So, enjoy it as it is, the creases, the marks, the stains and the tears!
The Captains
The Teams
The Club Crests
The Sun Souvenir Wall Chart Soccer Calendar 1970