Guilfest 2012 was wet. Guilfest smelt of freshly excreted pungent cow manure. Guilfest charged an exorbitant £4.50 for a pint of Brother's cider. Guilfest had over zealous security staff who regularly tugged at your wristband and rummaged through your belongings.
Guilfest welcomed you with a line of police officers and sniffer dogs as you entered the arena. Guilfest, like so many outdoor events in this glorious summer of ours was MUDDY!!!
Guilfest didn't feel like a real festival probably due to the fact that it is situated close to a large town, Guilford, and a large number of attendees appeared to have single day tickets. The Friday and Sunday seemed to be deflated in numbers and the Saturday extremely busy, possibly in part due to X-Factor's (or is it Britain's Got Talent?) prodigy superstar Olly Murrs, and foul-mouthed cock-sucking chav diva Tulisa, topping the bill on the main stage.
Saying that, there were highlights if you went looking for them…
TV Smith
I recently watched a lovely little documentary on BBC's Punk Britannia series about T.V. Smith, best remembered as the front man from The Adverts. Whilst struggling to get a band together, or even to get gigs, it was suggested that his guitar playing was good enough for him to go solo.
I was impressed enough by what I watched to go and take a look.
Smith played all of the old Adverts tunes, Bored Teenagers, One Chord Wonders and the eponymous Gary Gilmore's Eyes. All played on an old battered acoustic guitar, all stood up on their own as quality songs, all still seemed as sharp, as clever, as wonderful as the first time that I heard them…but what I enjoyed most were the new songs which showcased the development in Smith's songwriting skills.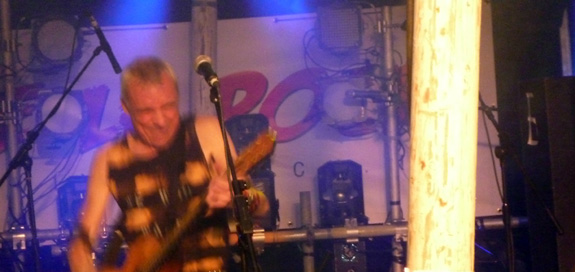 I tip my hat to you T.V. Smith.
Buzzcocks
I initially saw the Buzzcocks at the old Top Rank nightclub in Dale End, Birmingham back in 1977 ('1977, I hope I get to Heaven') supported by Patrik Fitzgerald and The Slits. They were always one of my favourite bands at that time due to the quality of their energy infused pop songs.
I saw them again about 2 years ago at the Wulfrun Hall, Wolverhampton and was disappointed. They seemed disjointed, dis-harmonious and Pete Shelly had trans-morphed from this cheeky little chappy to a stereotypical vision of an overweight balding darts player.
In a jam packed tent at Guilfest they did not disappoint. They played a non-stop set fired off at a machine gun pace. All the singles. All my favourite album tracks. Barely pausing between songs, just long enough to communicate the name of the next song.
They were loud. They were fast. They were tight. They were a joy to behold.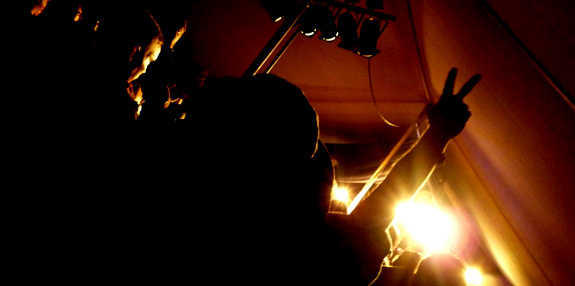 Thank you Buzzcocks.
Jimmy Cliff
Bouncing around the main stage like a man half his age adorned in a predominantly red tracksuit emblazoned with the yellow and green of the Rastafarian religion. Here was Jimmy Cliff, part kangaroo, part space hopper, full time legend, weaving his magical sunshine emblazoned songs into our mundane urban lives.
He played one of my all time favourites, 'Vietnam', a song about losing friends in a needless unnecessary war, it was renamed to 'Afghanistan', a song about losing friends in a needless unnecessary war.
He played the classics, he played songs from his new album and he played covers, breathtakingly, an almost vocal only version of 'Rivers of Babylon' accompanied by himself and the band on bongos.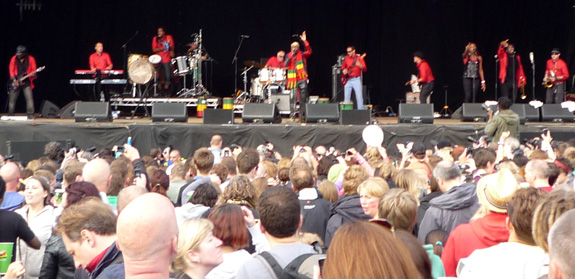 Jimmy Cliff, a living legend.
Goldblade
The beauty of musical festivals is just happening to find a new favourite band by chance.
Several times over the weekend I listened to several punk, rock, metal, grunge bands I had never heard of. I departed these tents after less than 2 songs for most of them, because in a word, they were BORING. They dramatically failed on several levels, they were not entertaining, their song crafting abilities were limited, they had no stage presence. I'd heard it all before. BORING! BORING!! BORING!!!
Then I came across Goldblade fronted by ex Membranes front man, and TV talking head, John Robb.
Goldblade, each member of the band looking as though they are part of a gang, a modern day mix of Ramones and Rockabilly tendencies belting out sing-a-long anthemic songs that put Bono's attempts to quivering shame. Sing-a-long anthemic songs in which Robb was happy to pass the microphone to members of the moshing crowd to sing along.
I knew they were my type of band when the woman aside me dragged her husband out when Goldblade sang the lyrics to their first song, 'Fighting in the Dance-halls, Fucking in the Streets'. The reluctant husband knew we had sussed his predicament as he gave us a sheepish grin as he was led away. We duly responded by pressing our thumbs against our foreheads in the time honoured way.
Priceless.

John Robb, Goldblade, Guilfest, I Believe In The Power Of Rock And Roll
The Wonder Stuff
Back in the late eighties I saw The Wonder Stuff live in Birmingham at somewhere that may, or may not, have been called The Angling Club. I believe they were bottom of the bill on a night showcasing five local up and coming bands. The headlining act was The Mighty Lemon Drops who had their set gatecrashed by Pop Will Eat Itself.
I saw them again a few years later headlining their self promoted arena gig at Walsall Football Club under rainy skies. I remember even now, all these years later, my mate being a bit perplexed by Miles' over-abundant use of expletives.
Now, from the West Midlands with love, come Stourbridge's own local hero Miles Hunt and his erstwhile fiddle playing, sugar plum fairy, Erica Nockalls.
In the hazy afternoon mid-Summer sunshine they played an acoustic session, re-visiting songs that are now heard, as Miles Hunt enthused, as background music on 'Come Dine with Me'.
I always enjoy hearing songs you know and love being re-defined in a stripped down way, and The Wonder Stuff did not disappoint…
…and then they played a cover by Wolverhampton's very own little known folk band Slade, the wonderful 'Far Far Away'. Brilliant.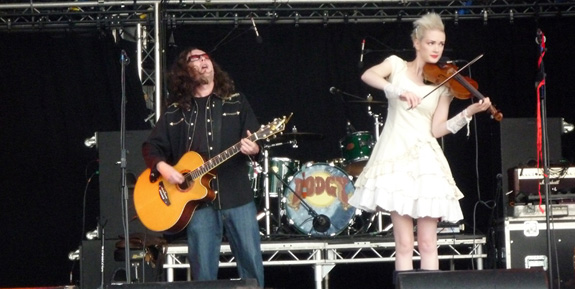 And I don't remember hearing Miles swear once.
https://www.thewonderstuff.com/
UkeJam
UkeJam are another band that I serendipitously came across. UkeJam play ukulele. UkeJam play lots of ukuleles. Honestly there must have been about 30 of them playing and singing everything from traditional songs to modern tunes like Jessie J's 'Price Tag'. And we all unselfconsciously sang along with them.
They were that good I went to watch their second performance later in the day, again to an enthusiastic audience in a packed tent.
They made me smile. They made me smile a lot. Watching UkeJam is like snuggling up under the duvet on a winter's day with the girl you love, having your tummy tickled, eating Instant Whip, drinking mojitos and watching 'ELF' on the TV all at the same time.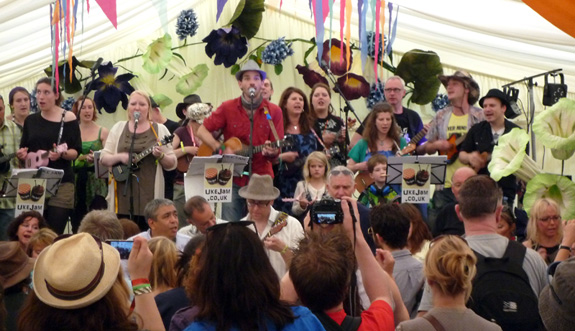 Everybody look to their left, Everybody look to their right
The Fabulous Fezheads
I saw two or three acts in the comedy tent that were truly awful. Stand up comedians with no sense of timing, an underwhelming selection of duff material and unforgivably shambolic performances… and then there were The Fabulous Fezheads.
A tribe of smock wearing, fez hatted, sand dance illusionists swapping felt hats and brandishing bayonets. At times also looking shambolic and under rehearsed, like a gaggle of accountants and legal representatives 'just giving it a go'.
They were special because they were different, doing something no-one else was doing at Guilfest. They eluded a warmth that again had me smiling to myself. Another act I saw twice over the weekend.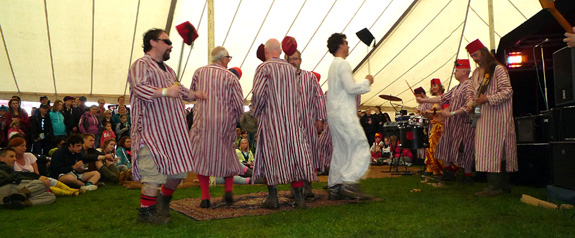 Do you want chilli sauce on your Donner Kebab?
Bryan Ferry
Bryan Ferry finished the weekend with a show that oozed class and sophistication. Surrounded by a band of about 14 experienced musicians and backing vocalists including ex-Smith's guitarist Johnny Marr, jazz guitarist Chris Spedding and original Roxy Music drummer Paul Thompson. Bryan Ferry delivered what was expected, a cascading waterfall of layered sounds that warmed the soul, with such Ferry classics as Avalon and Jealous Guy, and Roxy Music classics like Love is the Drug.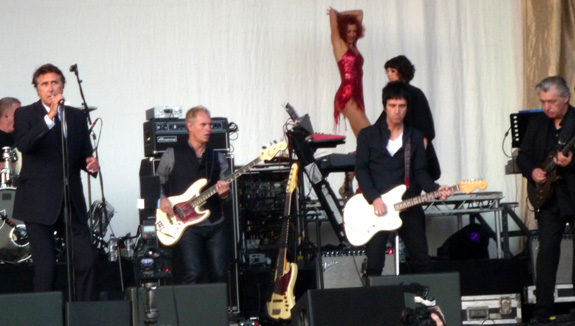 Now the party's over, I'm so tired.
Thank you to the acts above that made Gulifest 2012 a weekend to remember.