Today 6 Music celebrates its annual 'Wear Your Old Band T-Shirt To Work Day'. Now in its sixth year, the station asks listeners to participate in the day by simply wearing one of their favourite band t-shirts to work.
In recent years, t-shirts have been worn under lab coats, in classrooms and by whole offices. Those getting involved are asked to send in pictures of themselves in their t-shirts to the 6 Music website and via Twitter and Facebook.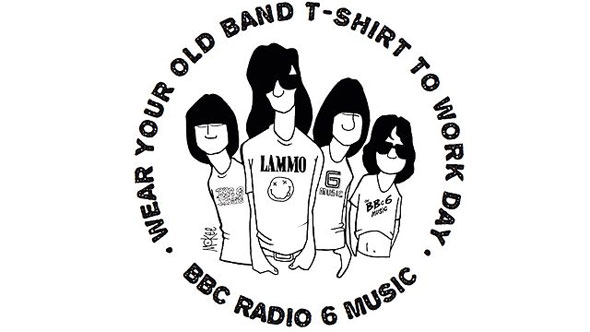 This year sees a brand-new 6Music T Shirt design being produced and created by Sheffield artist Pete McKee. Pete has a long history designing for music, having worked with Oasis when Noel Gallagher asked him to design tour posters for the band and his solo shows. Pete has gone onto work with The Arctic Monkeys and Richard Hawley as well as hosting exhibitions based around great moments in popular music, Teenage Kicks and Mods. He will be joining Steve Lamacq in the build-up to Wear Your Band T-Shirt To Work Day to unveil the brand-new 6 Music design.
So, 6 Music says get involved, dig out your t-shirts and be proud! Bring back the lost art of showing people 'I was there at the Brixton Academy in 1998' or 'I travelled all the way to Wolverhampton on a Tuesday in November and still have the shirt to prove it!
Pop Will Eat Itself – Happy?
And here is Hand in Glove's very own Frank J.Wilson sporting a snazzy little 'Pop Will Eat Iteself' t-shirt for Wear Your Old Band T-Shirt to Work Day VI
Source: