There's a great little book been published on the history of Tipton Town FC by ex player and club stalwart Steve Mills. It's a lovely tribute to the spirit of the club, a great documented history and loads of amusing tales from across the years from ex players and club members. Steve has done a great job on the book and it's a fitting tribute to him and the club. The book retails for £7 and can be obtained by contacting Steve on 07751 954179 or stevemills@wlv.ac.uk.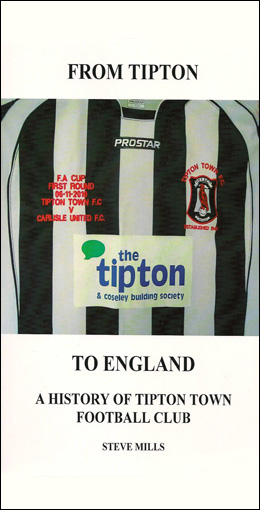 FORWARD
From the gem of an idea some 60 years ago, or thereabouts, when a few friends formed Ocker Hill United, to the present day, this club has grown in stature and respect, rebranding itself as Tipton Town F.C. on the way.
During its course through history Tipton Town F.C. became the platform for Steve Bull to hone his goal-scoring skills which saw him depart to West Bromwich Albion.
Steve was then transferred to neighbours Wolverhampton Wanderers where his career took off seeing him amass in excess of 300 goals and also 4 for England in 13 appearances, 9 as substitute.
Steve Mills, a fine player too in his day for Tipton Town and by a country mile the best fundraiser that the club has been proud to boast, has put together a splendid cross-section of milestones and incidents both laughable and sad.
This rich history and the club's growth and progression over the years have helped to make Tipton Town F.C. the respected club that it is today.
John .A. Cross Chairman, August 2012.
From Tipton to England – A History of Tipton Town Football Club